International Women's Day: Celebrating Lingerie's Women Designers
On International Women's Day, I wanted to take the times to showcase some of the incredible women-designed objects within the museum collections. The creation of clothing has almost always been a woman-dominated industry, yet one where there is little recognition for their incredible skills and talents. We have no idea about who created the majority of our most beautiful objects, so the few that we can attribute to an actual designer become all the more precious. I'd also like to take the time to thank the incredible women that have been working alongside me on this project to make it possible – our researcher Lorraine Smith and photographer Tigz Rice.
Shown here are a selection of objects from our collections that can actually be traced back to their original woman designers.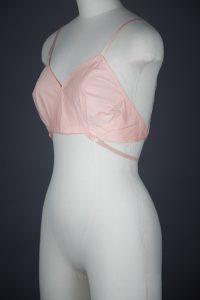 Kestos bralet, c. 1940s, UK. This bra was originally created around 1926 by Rosamond Lilian Klin in London. This was arguably the first commercially produced bra that featured separated, shaped cups. It became one of the most iconic and popular bras of the 1930s, and remained popular and in production well into the 1950s.
---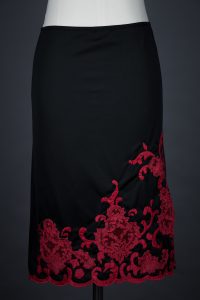 Half slip, c. 1950s, USA, by Odette Barsa. Odette Barsa was a Syrian born designer that emigrated to the USA in the 1920s and became renowned for her experimentation with luxurious European textiles and new silhouettes.
---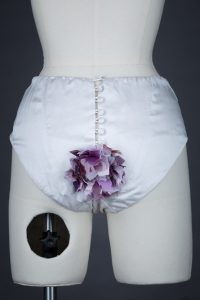 'Garden Of Delights' knickers, c. 2008, UK, by Strumpet & Pink. A collaboration between Fine Artists Melanie Probert and Lisa Z. Morgan, Strumpet & Pink was their quest to create the perfect pair of knickers. A radical approach to underwear saw the pair experiment with luxurious textiles and details that the lingerie world had not seen before, creating couture, erotically charged wearable art. Sadly Melanie Probert passed away in 2015. Lisa Z. Morgan continue to create Art, which can be followed on her blog 'The Pink Investigator'.
---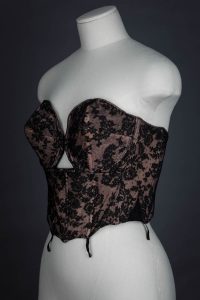 Black lace strapless brassiere, c. 1950s, France, by Cadolle. The Cadolle design house was founded by Herminie Cadolle in 1878, originally a shop that specialised in made-to-measure undergarments. Herminie is often credited with designing the first modern bra in 1889, although this is often contested. The brand continues to this day, and is now headed by Poupie Cadolle, the fifth generation of the family to run the eponymous brand.
---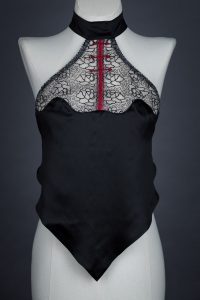 'Empress Noir' dudou, 2015, China, by Pillowbook. Pillowbook was founded in 2013 by designer Irene Lu, wanting to promote traditional Chinese lingerie and championing couture hand crafting. The brand name is taken from the illustrated erotic guides that were traditionally gifted to Chinese newlyweds, giving the brand's roots of a design aesthetic that aims to 'inspire [their] lovers to seduce, pleasure and empower'. The dudou is a traditional Chinese lingerie style, a type of chemise with an exposed back. According to the brand website, these would be made by women as part of their bridal dowry, and would include embroidered wishes.
---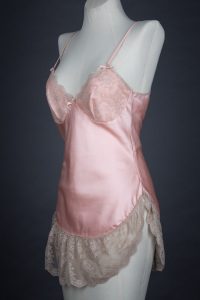 Lace and satin slip, c. 1970s, UK, by Janet Reger. The eponymous brand was originally founded in 1966 following the designer's studies at the world renowned Contour Fashion course at what is now De Montfort University. Her designs revolutionised public perception of what lingerie could be, turning them into fashion statements rather than purely functional undergarments, receiving much criticism at the time. Sadly she passed away in 2005, but the brand continues to be run by her daughter Aliza Reger.
---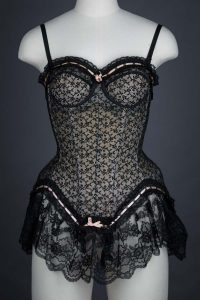 Lace corselette, c. 1950s, France, by Simone Perele. Simone Perele was a corsetmaker that founded her eponymous label in 1948, in response to the demands of women for fashionable foundationwear that combined elegance and comfort. The brand was a front runner in many technological developments, such as the use of lycra lace in the 1960s. The label is still family run, by Madame Perele's children Catherine and Phillipe.
---
We hope to share more about these incredible pieces with you in the future as the museum grows, but in the meantime hope that you can appreciate these beautiful garments and little snippets of history.
Who are your favourite women designers in lingerie today? How are you choosing to celebrate International Women's Day?