Chapter Four: Power Red - Part Three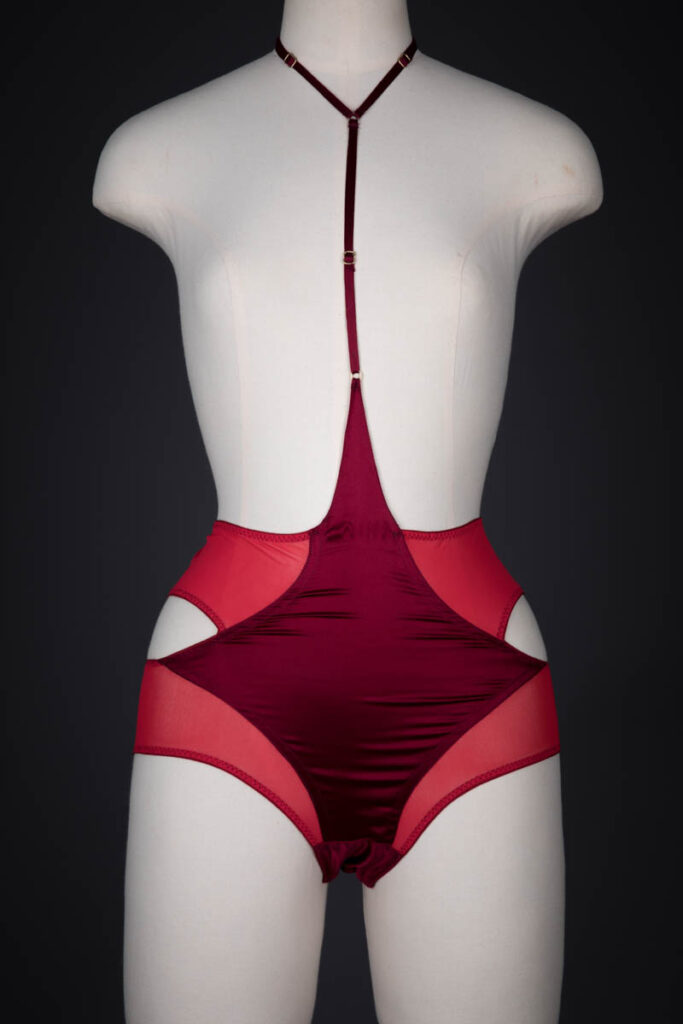 'Betty Elms' Silk & Mesh Harness Knickers By Marika Vera
Date: 2013
Origin: Mexico
Fabric: Silk satin, stretch nylon mesh
Brand: Marika Vera
Red can symbolize love and life, but also death and bloodshed.
In 2013, Mexican lingerie designer Marika Vera released a collection called "Welcome To The Rabbit Hole," inspired by the work of filmmaker David Lynch. This red pair of harness knickers were named "Betty Elms," after a character in Lynch's 2001 film Mulholland Drive. The colour red appears throughout the film, and in this piece, may refer to its themes of sex, murder, and surrealism.
The "Crimson Skull" underbust corset activates the age-old association of the colour red to crimson blood. The corset fabric is a red silk-cotton satin, appliquéd with black and metallic gold French leavers lace forming a skull. In an exclusive comment for the Underpinnings Museum, designer Jenni Hampshire revealed that the "coupling of death and ridiculous vibrancy" is a "mockery of ourselves," taken to mean human mortality.
'Thea' Draped Silk Corset By Emiah
Date: 2016
Origin: United Kingdom
Fabric: Silk duchesse, silk georgette, leavers lace
Brand: Emiah
This piece, the 'Thea' corset, features a palette of dramatic, regal hues. Designer Alycia Hirani described the main colour as a "rich cranberry," and the fabric intricately draped along the bust as "garnet and deep plumb."
In an exclusive comment for the Underpinnings Museum, Hirani explained: "I knew I wanted to use deep rich jewel tones to match a luxurious draped design I had in mind, so when looking in my fabric stash to find something to inspire me, I found this cranberry red satin and matching delicate lace that was so vivid that I knew I had to use them. The deep red tones evoked sensuality, opulence, and majesty for me."
'Cassandra' Tulle & Marabou Feather Dressing Gown By Boudoir By D'Lish
Date: 2017
Origin: United States
Fabric: Nylon tulle, marabou feathers
Brand: Boudoir By D'Lish
Catherine D'Lish is a burlesque performer and lingerie designer best known for her luxurious dressing gowns, including the "Cassandra" style trimmed with luxurious marabou feathers.
Boudoir by D'Lish sells this style in many colour variations, including three shades of red: "Red," "Dark Cherry," and "Merlot" after the dark shade of red wine made from Merlot grapes. The grey stain belt pictured is not original to the design but was replaced by the robe's wearer.
'Empress Noir' Silk Dudou by Pillowbook
Date:  2016
Origin: China
Fabric: Silk and embroidered tulle
Brand: Pillowbook
This silk dudou is from Pillowbook's "Empress Noir" collection. Its shop description paints vivid and fantastical imagery, comparing the black floral lace to a "dark garden" bisected by a "blood red blossom path."
The Pillowbook brand was created in 2012 by Irene Lu, and specializes in silk lingerie and modernized Chinese dudous. According to Amber J. Keyser in Underneath It All: A History of Women's Underwear, the dudou has its roots in ancient China and formed its rhomboidal halter-top appearance by the Qing Dynasty (circa 1644-1912).
In Chinese culture, the colour red symbolizes happiness, success, and good fortune. The scarlet hue known as vermilion has also been referred to as "Chinese red," due to its historic use in Chinese lacquerware.
Sweetheart Victorian Corset For Cathie Jung By Dark Garden
Date: 1996
Origin: San Francisco CA, United States
Fabric: Black leather, red leather appliqué, poplin lining
Brand: Dark Garden
Designer: Autumn Adamme
This black and red leather corset was created in 1996 by corsetière Autumn Adamme for Cathie Jung, who holds the Guinness world record for the smallest waist while tightlacing.
Renowned for its bespoke corsets, Adamme founded the Dark Garden corset company in San Francisco in 1989.
In a 2021 Instagram post, Adamme stated: "The color red always speaks to me – passionate, fiery, rich and somehow a bit forbidden. It is a recurring theme in my collections and I love to create in this color."