Chapter Five: Satin And Subversion
Lingerie designers in the 21st century have revisited and reimagined floral tropes from across lingerie history.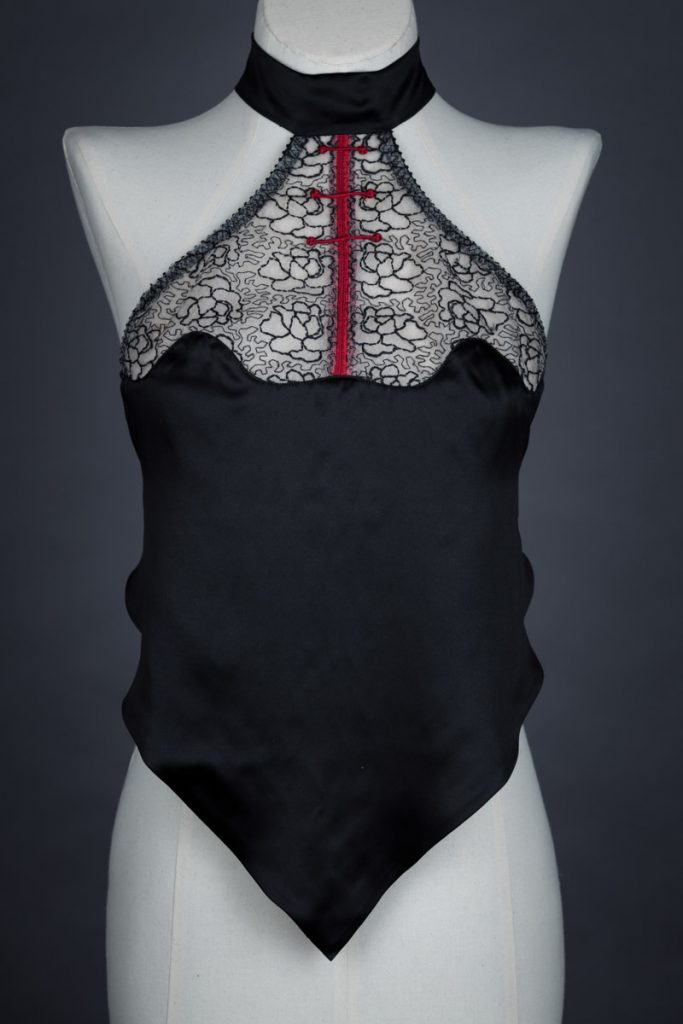 'Empress Noir' Silk Dudou by Pillowbook
Date:  2016
Origin: China
Fabric: Silk and embroidered tulle
Brand: Pillowbook
The dudou is a traditional Chinese lingerie style, a type of chemise with an exposed back. This modern interpretation is made to order using couture sewing techniques. All seams are enclosed within the garment. The top half of the dudou is comprised of an exterior fabric of floral-machine-embroidered sheer synthetic mesh, lined with a plain sheer mesh. The centre front seam features contrast red silk detailing with traditional Chinese silk rouleau knots. The underarm edges have an encased elastic for a more flexible fit. The bottom half of the garment is black silk, with hand finished encased seams. The garment fastens with wide silk ties at the neck and narrow silk chiffon strings at the centre back. The silk lining is hand embroidered with an erotic motif.
Pillowbook was founded in 2013 by designer Irene Lu, wanting to promote traditional Chinese lingerie and championing couture hand crafting. The brand name is taken from the illustrated erotic guides that were traditionally gifted to Chinese newlyweds, giving the brand's roots of a design aesthetic that aims to 'inspire [their] lovers to seduce, pleasure and empower'.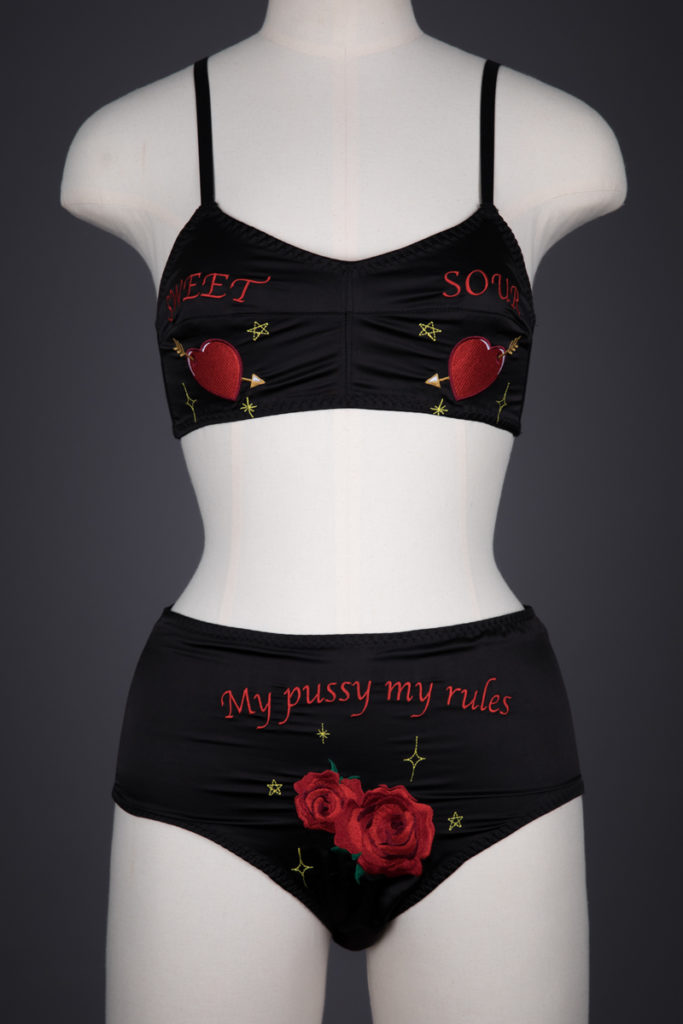 Embroidered Bra & Brief Set By Bettie Page By Playful Promises
Date: 2018
Origin: Manufactured in China, designed in the United Kingdom
Fabric: Polyester
Brand: Bettie Page by Playful Promises
A soft bra and full cut brief style, with the design inspired by the 'souvenir' lingerie sets of the 1940s. The original c. 1940s lingerie sets were often embroidered with messages such as 'keep your pants on honey until I come home', 'don't touch' and 'off limits'. Although it may be argued that these were intended as tongue-in-cheek, they still reflected social attitudes at the time that women were the possessions of men. This design subverts that original message with the text 'My pussy my rules' embroidered on the knickers, instead promoting the concept of bodily autonomy.
The lingerie is made of a black polyester satin, machine embroidered with the aforementioned text on the briefs, 'sweet' and 'sour' on the different bra cups, and motifs of roses and hearts. Metallic gold stars highlight the embroidered design. Unlike the original souvenir lingerie sets, the Bettie Page interpretation is very much intended to be worn. The backs of the bra and brief are made of a lycra blend stretch mesh and both garments are trimmed with plush elastic. The bra has adjustable shoulder straps and fastens at the centre back with hooks and eyes. Although these features are something that we may now take for granted in modern underwear, these fabric technologies are conspicuously absent in the original 1940s designs.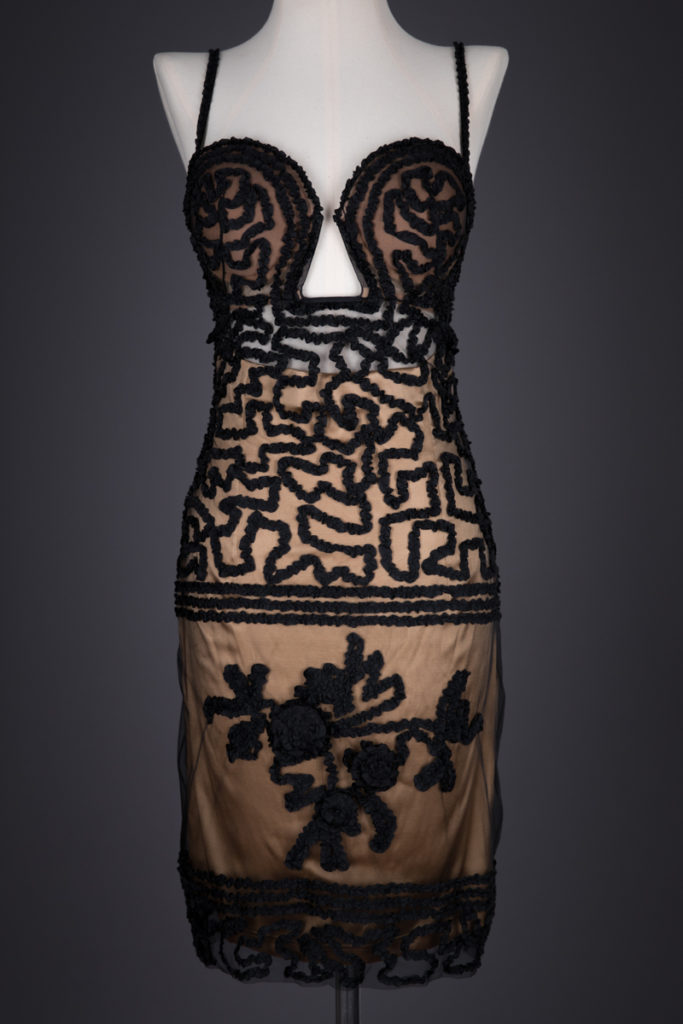 'Rubans' Ribbonwork & Tulle Slip By Jean Paul Gaultier For La Perla
Date: 2012, created for SS13
Origin: Italy
Fabric: Silk and nylon tulle
Brand: Jean Paul Gaultier for La Perla
A dress that straddles the boundaries between underwear and outer clothing, with detachable layers allowing for versatile styling. The bra style cups are structured with melded foam and underwires, the silhouette reminiscent of c. 1950s overwire bras. A deep wire separator gives a dramatic plunging neckline to the garment. The outer body of the garment is formed of fine black tulle, with the body embroidered with machine stitched ribbonwork. The ribbonwork appears to have been applied mostly freehand, forming organic patterns across the waistline and bust. The bottom of the skirt panel is embellished with ribbonwork floral motifs and textured rosettes.
This garment is from the 'Rubans' range (which translates as 'ribbons') of the Créateur collection, a collaboration between French couturier Jean Paul Gaultier and heritage luxury lingerie house La Perla. The collaboration was launched to the market in 2010 to great critical acclaim at a particularly high price point, with this particular dress retailing at $1850. The dress was also styled as part of Gaultier's couture catwalk show in Paris for that season. Garments in this range were available in two colourways: beige and black. The collection was particularly noteworthy for its use of intricate and time consuming embellishment techniques, many of which are rarely used in contemporary design.
Chinese brand Pillowbook reinterprets the "dudou," a traditional Chinese lingerie garment, using a black floral lace in a way that is both dramatic and erotic. The Playful Promises set is another reinterpretation, taking the images and tone of the 1940s souvenir lingerie set—including the rose in the center of the briefs—but with a message that announces that the wearer controls their own body: "My pussy, my rules." As he explored in his collections of the 1980s and 1990s, Jean Paul Gaultier's collaboration with La Perla reinterprets mid-century tropes of black floral lingerie and conical cups, including the textured floral design in the skirt of the slip. Rather than inverting the messaging of its predecessor, as the Playful Promises set does, Jean Paul Gaultier exaggerates the textures, tones, and shapes of its inspiration.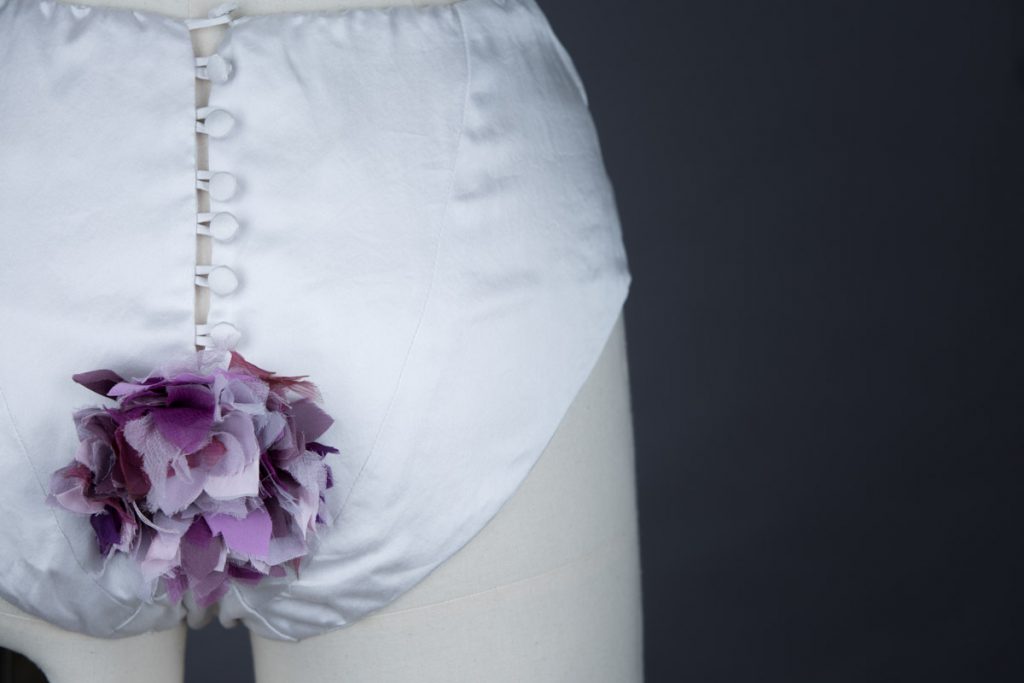 Garden of Delights Knickers By Strumpet & Pink
Date: c. 2008
Origin: United Kingdom
Fabric: Silk
Brand: Strumpet & Pink
These knickers combine luxurious construction techniques with erotically charged design; a garment unconcerned with function and practical design. Rising to the natural waist, the knickers have an exterior and lining of silk satin, with elastication at the waist and legs concealed within. The rear of the knickers opens to a row of functional silk covered buttons and accompanying loops, leading to an extravagant silk flower. The flower embellishment is constructed from hand cut and sewn petals in a range of different silk weaves and colours with hand knotted embroidery floss 'stamens', offering textural and tonal intrigue. The raw edges of the petals would allow the knicker to evolve through wear, gradually fraying and changing in shape, echoing the natural variance of real flowers.
Strumpet & Pink styles were originally either made to order or created in limited quantities for a small number of stockists with price tags at the far high end of the lingerie market. This particular colourway of the 'Garden of Delights' style is one of only potentially two ever created.
A collaboration between Fine Artists Melanie Probert and Lisa Z. Morgan,Strumpet & Pink was their quest to create the perfect pair of knickers. A radical approach to underwear saw the pair experiment with luxurious textiles and details that the lingerie world had not seen before, creating couture, erotically charged wearable art. Sadly Melanie Probert passed away in 2015. Lisa Z. Morgan continue to create Art, which can be followed on her blog 'The Pink Investigator'. An archive of the brand's design work can still be viewed on its website.
Lingerie brand Strumpet & Pink used the tactile quality of both silk and flower petals to create overtly erotic interpretations of floral lingerie, emphasizing the sensuality of lingerie for the wearer.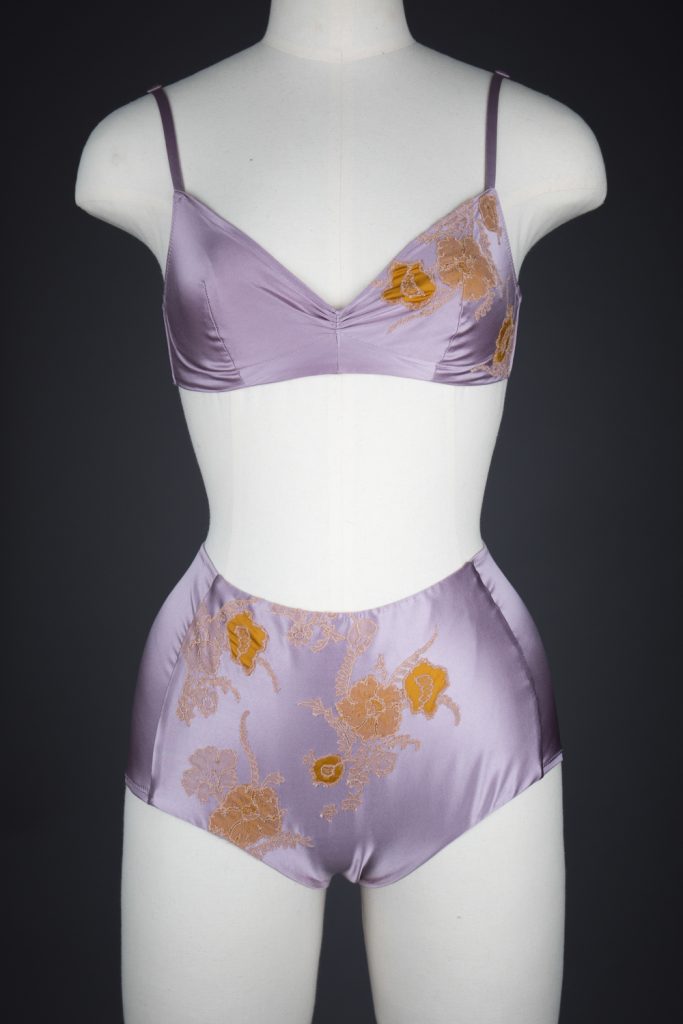 'Tamara' Silk & Lace Appliqué Soft Bra & Briefs by Carine Gilson
Date: 2012
Origin: Belgium
Fabric: Silk and leavers lace
Brand: Carine Gilson
A soft bra and brief set in parma violet stretch silk satin, embellished with ecru chantilly lace, appliquéd over saffron silk. Both pieces are sewn with couture techniques, incorporating silk linings, intricately machine stitched lace appliqué and bagged out constructions with concealed elastics.
The 'Tamara' range was inspired by the Russian Ballet's 'Firebird', choreographed by Diaghilev for Tamara Karsavina's title role. The lace appliqué patterns were specially assembled to reflect the 'Firebird', with motifs chosen to create a flaming feather effect.
Carine Gilson is an eponymous couture lingerie brand, founded by the designer in 1993 in Belgium after graduating from the Antwerp Academy of Fine Arts. The label specialises in true couture, luxury lingerie, creating its garments in Brussels-based workshops by couturiers with a minimum of two years of specialist training. Many of the garments can take two full days to create, with eight different artisans working on them. The brand uses exclusively Lyon-made silk and Caudry leavers lace in its designs. According to the brand, 484 pins are used to hand apply the lace appliqué to a single robe design, and the workshop gets through 18,000m of lace flowers per year.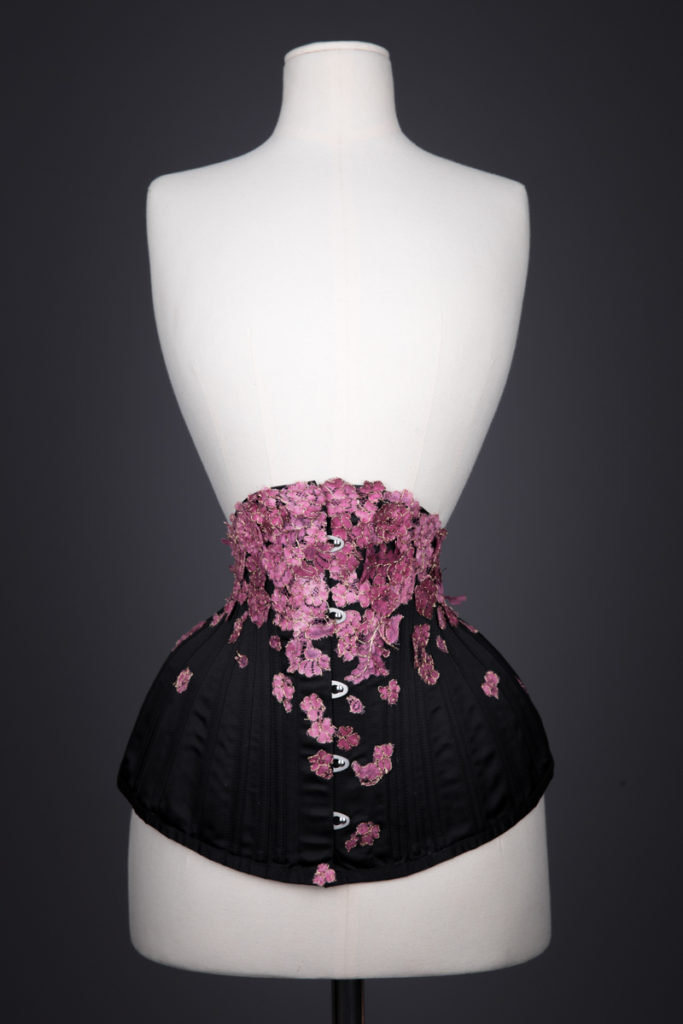 Falling Blossoms Underbust Corset By Sparklewren
Date: c. 2015
Origin: United Kingdom
Fabric: Silk and lace
Brand: Sparklewren
An underbust corset in a single layer of silk duchesse, made in the signature Sparklewren 'Bird's Wing' style, with lapped seams, numerous fine steel bones and single layer construction. It fastens with a front busk closure and eyelets and cotton lacing in the rear.
The original  'Bird's Wing' corset is an extant piece from the 1900s from the Symington Collection held by Leicestershire County Council's Museums Service. The garment was supposedly named for the fact that it looks like a bird's wing when laid flat. The original  corset featured an unusually high number of 21 panels per side, with a lapped seam construction enclosing a bone in each seam.
This corset began life in 2014 as an unembellished, longer line 'Phoenix' corset, part of a small range of experimental ready-to-wear styles from the Sparklewren brand. In 2015 the sample was trimmed down at the underbust and then embellished with hand painted lace appliqué to join the 'Falling Blossoms' family of corsets.
Jenni Hampshire began creating corsets under the moniker 'Sparklewren' in 2009. The designer's background in Fine Art has resulted in a body of work akin to wearable sculpture. Historically inspired silhouettes and construction techniques are paired with lush, opulent embellishment and couture construction techniques. The brand specialised in one-of-a-kind heirloom garments, with each garment taking weeks of carefully considered embellishment and craftsmanship.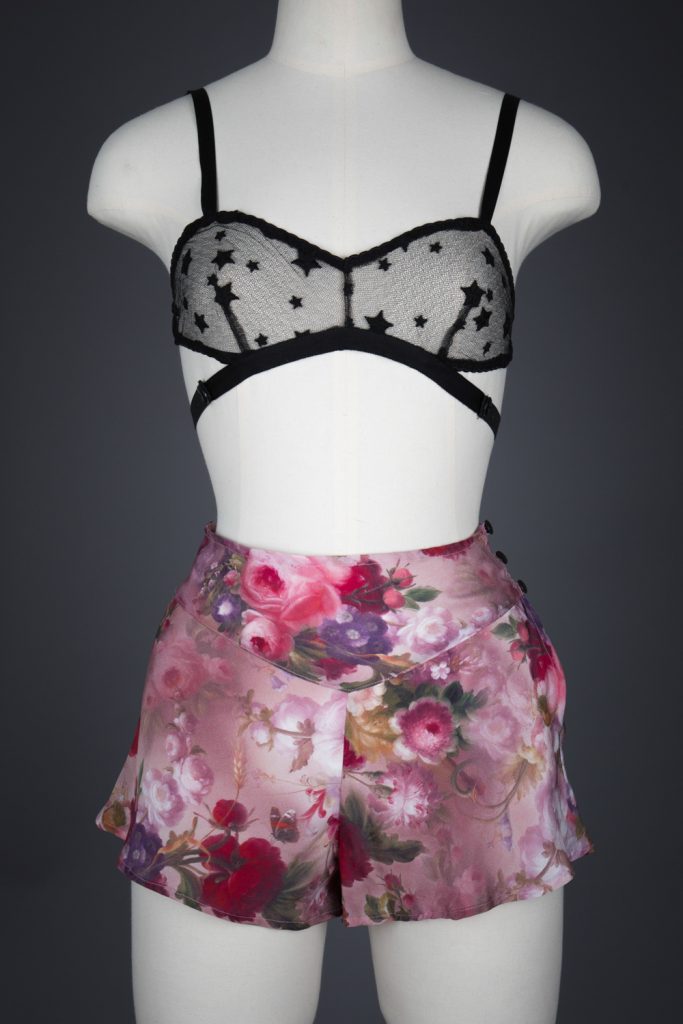 'Night Garden' Embroidered Tulle Bralet & Silk Tap Pants by Evgenia
Date: 2015
Origin: United States
Fabric: Embroidered tulle, silk crêpe de chine, leavers lace
Brand: Evgenia
The 'Night Garden' lingerie collection by Evgenia offered a modern interpretation of classic 1930s silhouettes. The garments were hand made in San Francisco by designer Stephanie Bodnar.
The bralet shape is based on the Kestos bra shape, with contemporary additions of adjustable shoulder straps, elastication at the neckline and underarm, and adjustable buttonhole elastic fastenings. These amendments offer more adjustability of fit and comfort than the original Kestos bra design. The cups are created of a star motif, machine-embroidered tulle, with satin ribbon shoulder straps, black enamelled adjusters, and grosgrain elastic trim.
The tap pants use a yoked pattern, with a fitted waist and flared legs in a floral printed crêpe de chine. They fasten at the left side seam with buttons and elastic loops. The back yoke of the tap pants is embellished with black valenciennes lace trim appliqué, shaped into a bow motif. This time consuming embellishment technique was particularly popular in the early 20th century. 
The Evgenia brand began in 2011 under the name 'Honey Cooler Handmade', initially specialising in one-of-a-kind lingerie pieces that utilised the technique of insertion lace appliqué. After rebranding as Evgenia, the label continued with its lace appliqué techniques in full collections rather than individual garments. Designer Stephanie Bodnar studied Fashion Design at the Fashion Institute of Design & Merchandising in California, USA. She was a designer in residence at the Fashion Incubator program at Macy's Union Square in San Francisco from 2014-15, and is now based in a studio in West Marin.
Designers such as Carine Gilson, Sparklewren, and Evgenia have also reinterpreted historical traditions. The applications of floral lace appliqué from Sparklewren and Carine Gilson or the photographic print for Evgenia show inspiration from the delicacy and craftsmanship of earlier lingerie, but combined with a modern sensibility.
An overview of lingerie from the past few centuries shows how central floral themes have been in the design of undergarments, drawing upon diverse associations and inspirations. From the floral garters on the 18th century through to Strumpet & Pink's cluster of silken petals, the bloom has remained a key way that lingerie has spoken to the desires of its wearers and viewers. Like the scent of the blossoms they portray, these design ideas and memories recur in different forms, while retaining their essential nature.